Box Tops for Education
over 5 years ago
Each Box Top is worth $.10 for our school.
Take a look around your pantry and in your cabinets for items with the picture below. These can also be found on many back to school items.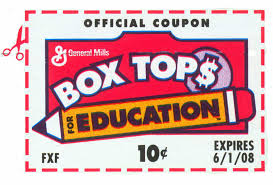 Cut out each Box Top and send them to school. Students can give them to their homeroom teacher.
Student Council members will sort, bag, and submit Box Tops at the end of each semester. Box Tops will send our school a check.